Art of Writing cultivates and supports the craft of writing at UC Berkeley. Our seminars, workshops, tutoring programs, and events build a collaborative writing community across the disciplines, and approach writing as a teachable art.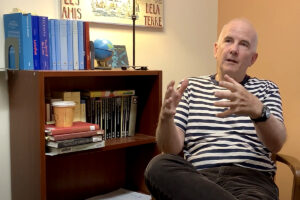 Timothy Hampton, professor of comparative literature and former director of Townsend Center for the Humanities, explains what makes Art of Writing courses unique and what he's learned from his years teaching at Cal. In 2013, Professor Hampton received the Campus Distinguished Teaching Award, Berkeley's highest honor for teaching excellence.
Our program mobilizes the written word as a site of exploration and creation for Berkeley teachers, scholars, and students.
Art of Writing creates writers at Berkeley. We offer seminars across the disciplines and divisions. Since its inception, our program has provided undergraduates with courses on such diverse topics as food writing, data aesthetics, sports fandom, the philosophy of lying, and more. These small and intimate seminars are co-taught by faculty and graduate student instructors, who are mentored throughout the semester. The intensive guidance teachers offer their Art of Writing students allows undergraduates to develop their own signature writing voices and styles. Art of Writing is firmly committed to teaching writing as an ongoing process involving editing, revising, and composing multiple drafts. Students give and receive commentary and criticism, allowing the unique talent and voice of each writer to emerge.  
Art of Writing creates teachers of writing at Berkeley. We are dedicated to writing pedagogy for faculty and graduate students. Often, instructors possess deep knowledge of their field and are accomplished writers, but have not been trained to teach writing in their field. To this end, we host a series of pedagogy workshops for faculty and graduate students in the Arts and Humanities, Social Sciences, STEM, and Data Science. 
Art of Writing creates undergraduate writing tutors at Berkeley. Undergraduate students are writers-in-the-making from the moment they step on campus. Our programs train undergraduates as tutors and writing fellows so they are able to support their peers in perfecting their written work. More information is available on our Writing Tutors page.
Art of Writing creates opportunities to think and write about writing at Berkeley. We invite celebrated writers to lecture on their writing practices and processes so students can learn what it means to commit to a life of writing, day in and day out, from those who live it. This annual lecture is complemented by writing workshops, talks, internships, and publishing opportunities for students to flourish as writers, teachers, editors, and scholars of writing.
Founded in 2015 by Professor Ramona Naddaff of the Rhetoric Department, Art of Writing is generously funded by the Mellon Foundation and private donors.